CINCINNATI — A doctor's exam conducted by Dr. George Paletta in St. Louis Monday will clarify left-hander Steven Matz's condition a bit more. But it doesn't seem as if a whole lot of good will come out of that.
Matz, who was pitching strongly into the sixth inning here Saturday night, fanned five in succession late in his outing, injured his left knee when his right foot slipped as he tried to pick up Joey Votto's roller down the first-base line. An MRI taken here Sunday revealed a torn medial collateral ligament. Surgery is a possibility. A considerable rest period to heal it could be another option.
But Matz, having conquered a shoulder impingement to make his first Cardinals start Saturday in more than two months, doesn't look forward to taking another month or more off.
"It's frustrating," he said Sunday. "It's pretty sore today so I knew something really wasn't right. But definitely a frustrating thing.
"I was feeling really good yesterday coming back off the (injured list). I felt I was getting stronger as the game was going on. I felt I had so much more in the tank."
He was the winner as the Cardinals prevailed 6-3, allowing three hits and two runs, with seven strikeouts and a walk, in 5⅓ innings of work.
Miles Mikolas, who was the 6-3 loser to the Reds on Sunday, said, "We were looking forward to having him back. To get him back and get teased with his great stuff and then have it taken away real quick is not ideal."
Matz, whose sinker touched 96.5 miles an hour, allowed just three hits and a walk, amounting to two runs.
"I just didn't catch the ground ball — and that doesn't happen," Matz said. "It was spinning and had a lot of topspin. It was just one of those plays where you get caught in between."
Considered one of the top athletes on the field, Matz grimaced and said, "That was a pretty un-athletic play.
"I almost had that sigh of relief — going back and feeling really good and going back to the (injured list) kind of takes the air out of your lungs a little bit."
Cape Girardeau, Missouri, product James Naile was called up from Class AAA Memphis when Matz went on the 15-day IL and got two outs in the seventh inning Sunday.
First baseman Paul Goldschmidt, still kicking himself a day later, said, "It just breaks my heart. I know he worked so hard to get back and he wants to contribute to the team.
"I was just about to call him off that ball. You replay that in your head."
Third baseman Nolan Arenado said the injury "(stinks). It stinks for us as a team and, most of all, for him as a man, he was so good (Saturday). It was exciting. For that to happen, it just seems that we can't catch a break as a group. But, hopefully, that must mean the tide is going to turn soon."
Bader to get a second opinion
Cardinals center fielder Harrison Bader, who has been battling plantar fasciitis in his right foot, will seek a second doctor's opinion this week after feeling discomfort while hitting and running on Friday night in a rehab game for Class AAA Memphis.
Cardinals president of baseball operations John Mozeliak, who provided the Bader update, also said that Juan Yepez, who has a forearm strain, felt some pain when taking swings in St. Louis. So he doesn't appear to be close to returning, either.
Mozeliak said he would be in touch with injured right-handed ace Jack Flaherty "and his group" about a timeline for Flaherty to rejoin the club from his home in southern California to continue his rehab.
Hudson on the way back
There was one piece of good news for the Cardinals from the injured-list front. Right-hander Dakota Hudson worked five innings, covering 79 pitches, and allowed one run for Memphis in a rehab start against Gwinnett on Sunday. Hudson, on the IL because of a strained neck, walked three and fanned six while permitting five hits.
Cardinals manager Oliver Marmol said Hudson is slated to rejoin the rotation in Washington next weekend.
With the club having three off days in the next eight, Marmol can go with a four-man rotation, including Hudson, until Aug. 6 when the New York Yankees are in St. Louis.
Discussing a potential fifth starter, Marmol paused and said, "He's not here yet."
COVID replacements
To replace Goldschmidt, Arenado and Austin Romine — all unvaccinated and not going to Toronto — on the roster, the Cardinals brought up three players from Memphis.
They were catcher Ivan Herrera, utility man Cory Spangenberg and outfielder Conner Capel. Only Spangenberg has not been with the big-league team this season.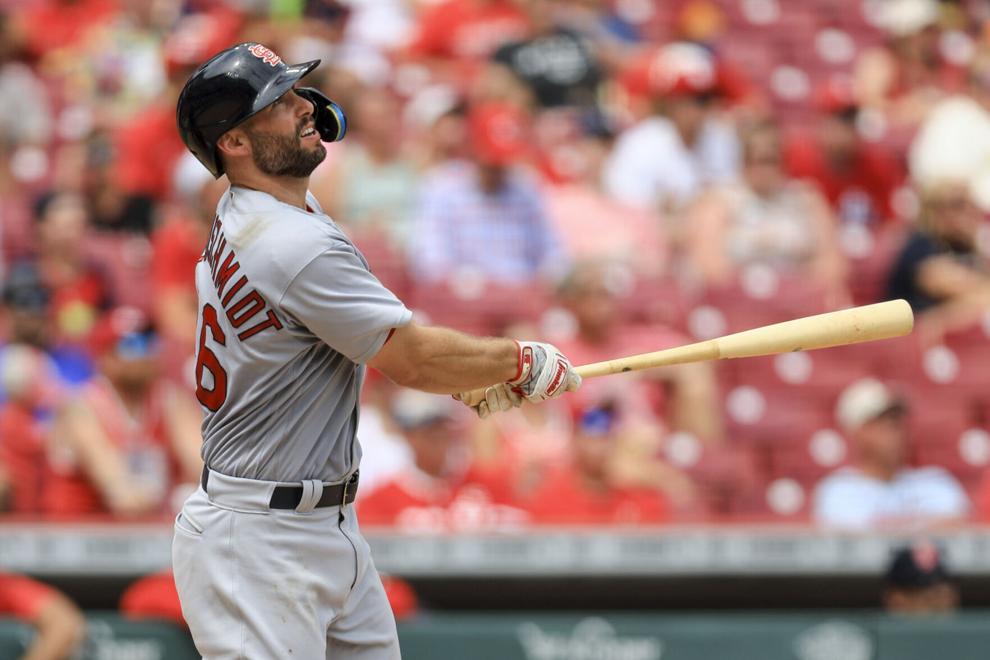 .