A trade deadline that Padres fans won't soon forget came to a close with a smaller yet still impactful move, with Brandon Drury heading to San Diego from Cincinnati in return for prospect Victor Acosta. Drury, a free agent after the season, may not be Juan Soto, who was acquired mere hours earlier, but his 132 wRC+ this season turned him into one of the more sought after bats available at the deadline.
It's been a long road for the 29-year-old Drury up to this point in his career, with the Padres representing his sixth franchise in eight seasons. After years of below-average hitting, he surprisingly put up a 114 wRC+ mostly off the bench for the Mets in 2021. That came in only 88 plate appearances, but it was enough to earn him a deal with the Reds in late March after the team's post-lockout fire sale. He settled in as the team's regular two-hole hitter and third baseman after injuries put Mike Moustakas on the shelf and stayed in the lineup thanks to a power surge that's seen him cross the 20-homer threshold for the first time in his career. Playing in Cincinnati, the best home run park in baseball for rights, certainly played a factor in that development; his new home in San Diego, the more spacious Petco Park, is middle of the road in terms of righty power, so it remains to be seen how many of those homers will travel with him to California.

It would be foolish to blame all of Drury's improvements on the ballpark, though, as there have been changes to his underlying skills that show he's a changed hitter. His barrel rate of 11.2% represents a notable improvement in his quality of contact; his career rate prior to this season was a below-average 6.4%. His 89-mph average exit velocity is middle of the pack (though an improvement on his early career), but he's been able to squeeze more out of that middling power by pulling the ball more frequently. Dating back to the beginning of 2021, he's hit 49.7% of his batted balls to the left side, up from his career average of 43.9% and nearly 10 points better than league average. His flyball rate has also risen a similar amount over that time, going from under 30% in both of his first two full seasons to 37.6% since the beginning of 2021. These changes may not seem massive, but coupled with a swinging-strike rate that's a career-low 7.9%, they've unlocked his offense.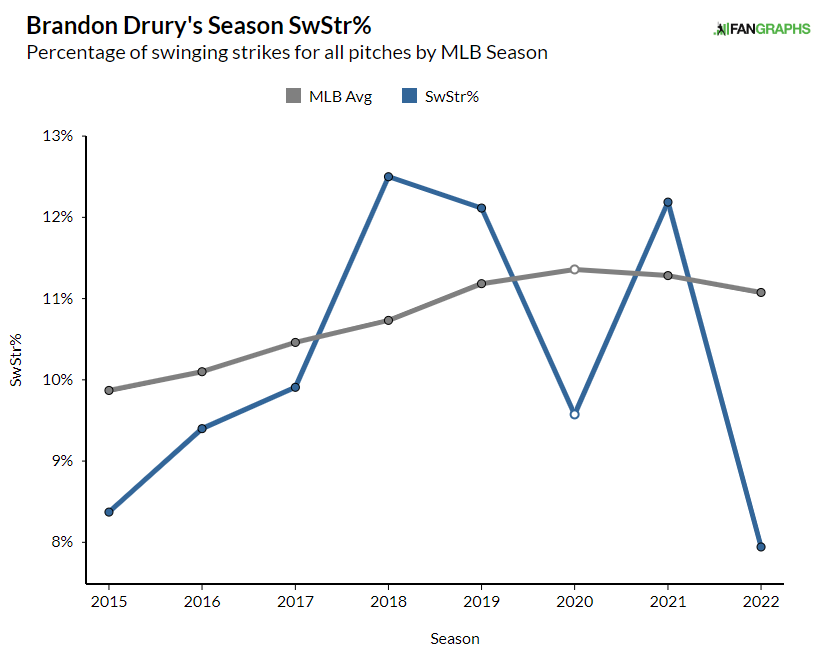 In San Diego, Drury will no longer be a full-time starter, considering his primary position is currently occupied by MVP candidate in Manny Machado, but he will be a potent weapon against lefties off the bench. His wRC+ against southpaws this season is a robust 172 to go with an average exit velocity of 91.2 mph, backing up last year's 136 wRC+ and 92.9 average exit velo against them. That makes Drury a sensitive platoon partner or late-inning pinch-hitter for Jake Cronenworth (103 career wRC+ against lefties) and Jurickson Profar (85 career wRC+ against lefties). On the whole, San Diego is 18th in baseball in wRC+ against lefties and 24th in ISO, making Drury's bat a useful tool to have both down the stretch and into the postseason, where platoon advantages against relievers prove to be massive. (That's to say nothing of the fact that the Dodgers, whom the Padres will face 12 times in their final 56 games, have four lefties in their starting rotation.)
Drury's defensive versatility is also a plus for the Padres. He played five different positions for the Reds this year, and while the majority of his work there came at third, he has over 1,000 career innings at second base, too, as well as a smattering of innings in the corner outfield and first base over the last few years. His quality of play at these positions is up for debate, although the samples are relatively small and the advanced metrics don't exactly agree on his performance. Outs Above Average (OAA) rates him above average at second (+8 career) and third (+1), but Ultimate Zone Rating (UZR) is less impressed with his work at those positions (-2.1 career at second and -1.5 at third). Regardless, he can at least handle them, and so he'll fill a super-utility role with the Padres. I expect to see plenty of starts at DH, and once Fernando Tatis Jr. returns, further deepening the lineup, you'll probably see Drury steal playing time from Cronenworth or Profar when a lefty is on the mound and provide respite for the rest of the infield on occasion.
As for the return, the Reds are getting Acosta, an 18-year-old and 40 Future Value shortstop hitting .243/.346/.360 over 131 plate appearances in rookie ball in Arizona. His excellent numbers in Dominican Summer League play in 2021 — a 153 wRC+, 26 steals and a .442 wOBA — landed him at No. 13 on our Padres prospect list back in May, but he had fallen to 15th in our most recently updated team rankings after scuffling stateside.
Unlike many shortstop prospects at this age, Acosta appears to have the athleticism and defensive skills to stick at the position as he ages. Per Eric Longenhagen's scouting report:
Acosta is a dynamic athlete with the athleticism and arm strength to play anywhere on the infield. He has plus defensive feet, hands, and actions, making him a likely long-term fit at shortstop.
Acosta's bat, on the other hand, appears to be the tool with the most questions moving forward. He's shown strong patience in both of his stops, posting double-digit walk rates, but his power has dropped this season, with his ISO falling from .199 to .117. His speed has also failed to translate, as he's been caught stealing seven times in 12 attempts. And despite being a switch-hitter, neither side seems to work all that well for him, as Eric also touched on in his prospect report:
Acosta's two swings are fraternal rather than identical twins and they vary in their efficacy. His barrel drags through the zone from the left side, making it hard for him to turn on pitches and causing him to pepper the opposite field, while his righty swing lacks vitality. […] There are still paths to an everyday big league role for Acosta, but based on early backfield looks, they just aren't likely to be carved by his hit tool. Instead, he'll have to punch above his weight from a power standpoint, which is feasible given how explosive the little Acosta seems to be. He's more likely a switch-hitting utility man.
Given Acosta's youth, he represents a lottery ticket for Reds fans to dream on, which is a nice return when trading away a pure rental — and one acquired for virtually nothing late in spring training, no less — like Drury. He'll slot somewhere in the 20s in Cincinnati's system, one that got much deeper thanks to Friday's trade of Luis Castillo to Seattle and Tuesday's trade of Tyler Mahle to Minnesota.